SPC - Music Sketchpad
Mix, record, play and perform your own electronic music!
It's the Android app for sampling, sequencing and beat programming on your phone or tablet.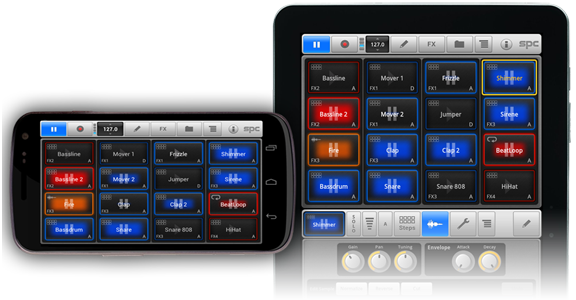 Watch the introduction video.
Use the SPC - Music Sketchpad to:
Perform live
16-pad screen mixes loops and sequences
Remix your tracks in real-time
Record and share your performances
Use your own sounds or the ones included in the app or download additional scenes
Program your own beats and grooves
Full featured drum sampler
Flexible sequencer
Step sequencer for each of the 16 pads
Every step sequencer with up to 64 steps
Individual velocity/accent settings for each step
Different step lengths from 1/4 to 1/32
Scribble your musical ideas
16 tracks with up to 4 variations
Keyboard for melodic composition
Soundlibrary with one-shot samples
Record sounds and loops
Record your voice, instrument or any other sound directly with your device's built-in microphone
Use the recordings instantly in your performance
Record one-shot samples with trigger function
Record loops in sync with quantization and overdub function
Read more about using an external microphone here
We've tested the SPC extensively with the iRig Mic from IK Multimedia with fantastic results
Edit your sounds
Waveform display
Gain, pan and tuning knobs
Envelope control with attack and decay
Reverse, normalize and cut function
All actions in real-time and with multi-touch
Add Effects
Reverb, delay, phaser, filter and distortion
Freely assignable to each pad
Real-time controllable effects
X-Y control field for the main parameters
Chaining of effects
Read about all the details in the SPC - Music Sketchpad Manual.
Complete feature list and requirements.
Available for Android™

Community
Get additional scenes made by mikrosonic, Loopmasters and our community.