RD4 - Groovebox Launchkey Mini
Perfect Control with the Novation Launchkey Mini
Play and control RD4 - Groovebox with the Launchkey Mini from Novation. Play notes, turn knobs, set drum steps and operate the mixer!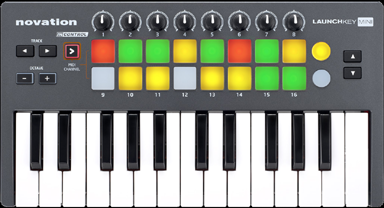 The Launchkey Mini is a compact MIDI keyboard and controller featuring a 25-note keyboard, 16 velocity sensitive, three color illuminated launch pads and eight rotary controls.
The RD4 - Groovebox can be controlled extensively with the Launchkey. Play and record notes with the keyboard, control filter with the knobs, enter drum steps with the pads and switch between the different instruments of the RD4. The interaction of the Launchkey and RD4 is bidirectional so that the pads will be illuminated to show steps, notes and settings with three different colors.
Watch the introduction video:
Implementation Chart
For a reference of all implemented functions get the RD4 Launchkey Mini Implementation Chart.
How to connect the Novation Launchkey Mini to an iPhone or iPad
To connect the Launchkey Mini device to your iPhone or iPad an MD821ZM/A Lightning to USB adapter is needed (iPhone 5 and later).

These adapters convert the connector of the iPhone or iPad to a standard USB port.
How to connect the Novation Launchkey Mini to an Android phone or tablet
1.) Your Android device should run at least Android 4.1.
2.) The phone or tablet needs to support USB host mode! Many, but not all devices support to connect USB devices through the micro USB connector. Please check the specifications of your device before buying any hardware, that later may not be useable with your phone or tablet.
Devices we have tested and do support USB host mode are:
Samsung Galaxy S3/S4/S5/S6/S7
Samsung Galaxy Note 3/4/5
Samsung Galaxy Tab S2
LG G3/G4
Google Galaxy Nexus
Google Nexus 7/10
Asus Memo Pad Full HD
Devices we have tested and do NOT support USB host mode are:
Google Nexus 4, HTC One S, HTC Sensation Z710e, Kindle Fire HD
3.) To connect any USB device to an USB host compliant device an USB Female to Micro USB Male On-The-Go Cable Adapter is needed. They usually cost below $5.

The adapter will convert the micro USB port to a standard USB port, where one can connect most USB hardware like a mouse, keyboard and also USB MIDI equipment.
Get the Novation LaunchKey Mini
Buy the Novation LaunchKey Mini on Amazon
Get mikrosonic RD4 - Groovebox