RoboVox - Voice Changer
Transform your voice with RoboVox and have your voice sound scary or funny, musical, evil or like a robot! RoboVox is a voice recorder and voice changing app using vocoder technology.
Choose among 32 different voice styles and jam with the pitch and modulation settings by sliding your finger across the X-Y control field.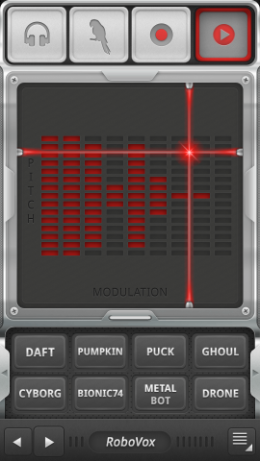 Transform your voice!
Modify your voice live with your headphones on, record your voice and play it back transformed or use the parrot mode that repeats your altered voice automatically.
Save your recording, send it via email or share it directly on SoundCloud.
Listen to some RoboVox example sounds
Use an external microphone
To obtain even better sound quality when using RoboVox add an external microphone to your Android or iOS device.
We've tested RoboVox extensively with the iRig Mic from IK Multimedia with fantastic results. The microphone is easy to set-up: Simply plug it into the headphone jack of your Android or iOS device and start RoboVox. The dual mini-jack connector of the iRig Mic allows you to use headphones together with the microphone at the same time.
Get more info on the iRig Mic here. Read more about using an external microphone in our FAQ.
RoboVox Features
32 voice models such as Pitch Shift (Chipmunk, Helium voice), Discobot, Badman, Exorcist, Bionic, Croack, Singing Robot, Dark, HAL, Stephen, Prophet
X-Y control field for modifying pitch and modulation
3 different modes: real-time, parrot and recording
Real-time mode (with headphones)
Voice recording
Share your results directly on SoundCloud
Save your creations as WAV files
Email your creations as WAV files
Save your transformed voice as ringtone
Vocoder with real-time FFT spectral analysis
Get to the RoboVox Manual.
Available for Android™ and iPhone™